Who Are Gina and Dena?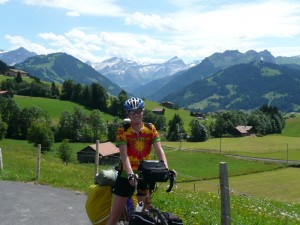 We're just two everyday people who like to ride their bicycles. In fact, that's our preferred way to travel. Simply load up the panniers and start pedaling. We like to hike as well – hikes with open, craggy-peak vistas or hidden, alpine lakes. Throw in a few water sports every now and then – maybe a little sea kayaking or boogie-boarding – and we are complete. Some people think we're adventurous, but we really just consider ourselves to be average travelers always in search of more time off to do what we love. Maybe the miles logged on bicycles saddles is not the most usual way to see the world, but believe me, you'll never mistake either of us for Amelia Earhart or Jessica Watson.
I'd say we each have a passion for the outdoors thanks to where we grew up – Gina in Denver, Colorado and me (Dena) in Seattle, Washington.  Gina has spent the bulk of her career in telecommunications while I've been banging away on computer keyboards in the field of clinical data management.  We've had good jobs with loads of paid time off, allowing us to bike tour parts of Germany, Austria, Italy, Switzerland, the Netherlands, and Belgium, as well as go trekking in Iceland.  We feel fortunate and spoiled and not yet satisfied, for there are so many more places we'd like to visit in this world.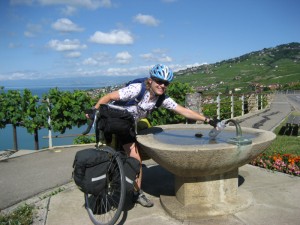 In step to do that, we decided it was time to move ourselves abroad for a few years, to try working and living in a foreign country for the international experience of it all.  So in March 2010, after downsizing our lives to the size of a small storage unit, we shipped out to Australia, the land Down Under, the land of Oz.  Our plan?  To travel the South Pacific while still earning paychecks to bank-roll our excursions.  For the next 8 months we lived and worked in Sydney, walking her every shoreline trail, marveling at her sparkling harbour, and learning first-hand what it's like to live in a different culture so far below the equator.
From Sydney, we opted to start another adventure, traveling New Zealand's South Island for 3 months by bike, foot, and van, and continuing our travels in Australia and Southeast Asia for another 4 months.  Then it was back through Seattle to re-establish that home we no longer owned furniture for before heading off again on an 8 week, self-supported bicycle tour through Central Europe.  Settling back into Seattle in the Fall of 2011, it was time to go back to work … only not for both of us.  Gina, although employed part-time, decided that Adventure trumps Paycheck any day, so she spent the Summer of 2012 cycling across America while I blogged her journey (and mine) here at home.
And since then? Well, over the past few years Gina joined the ranks of the semi-retired despite having fewer wrinkles than me, together we cycled across America on the Southern Tier route (think deserts, Border Patrol, wildflowers, a few angry dogs, and racing a turtle to the finish line in Florida) as well as hauled our panniers back to Germany for another cycling holiday, done a little road-tripping in the Central and Western states, and for every journey we've check off the Bucket List, we've added at least five more.
And just what is Burrito Wagon?
It may seem like an odd choice of names for a website that has nothing to do with taco trucks.  But there is a story behind the name and what it means to us …
The "Burrito Wagon" is a bike.  Specifically, the Burrito Wagon entered this world and Gina's life as a custom, Cramerotti touring bike.  The real essence of the Burrito Wagon came out in 2005, when the Cramerotti began training for the Pedal the Peaks Challenge in New Mexico.  The Cramerotti was going to ride 535 miles in 6 days, which, when you do the math, meant pedaling an average of 89 miles a day.  And not a flat 89 miles.  No, a hilly, mountainous, and desperately hot 89 miles.
While in training, Gina and I realized that we would never survive the long days in the saddle if it weren't for the trunk bag that went everywhere with the Cramerotti.  It held everything – wallets, cell phones, jackets, gloves, peanut butter and jelly sandwiches, and various other high calorie snacks that we used to fuel our days.  I really would not have been surprised if one day Gina reached in there and pulled out a rabbit – it was that magical.  When the time rolled around to head south for the Challenge, the Cramerotti was disassembled and along with the trunk bag, boxed up for the flight.
As we pedaled out of Albuquerque, trunk bag full of sunscreen and a few leftover snacks from breakfast, we noticed that other cyclists had given themselves nicknames, hand-written on their ride tags.  Not wanting to be left out, we had to quickly name our own bikes.  Mine, a zippy, lightweight Cannondale, was dubbed the Enchilada Express.  It would take me anywhere FAST, and its speed and feather-weight handling allowed me to fly up and down mountain passes with a bit more ease than Gina's steadfast touring Cramerotti.  What to name the Cramerotti?  Well, that came to us even faster than the Enchilada Express – it could only be the Burrito Wagon.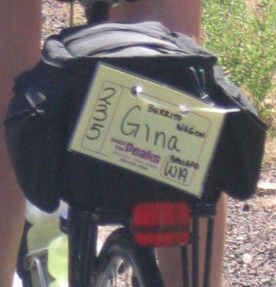 A wagon, by definition, is used to transport loads.  And that's what the wagon did and always had done – transported our loads.  Our loads of food, our loads of shed layers of sweat and clothing, and our loads of dreams and desires for one more great day in the saddle, one more ride feeling the sun on our faces and backs, one more tantalizing tailwind to speed us forward on our journey and then back toward home, one more day of feeling like a little kid again, carefree and enchanted by the great outdoors, experiencing the world from the seat of a bicycle, living simply with all that we needed loaded onto that wagon as we pedaled down the road.  It's really the most precious load a wagon can carry, and since those days, we never leave home without it.  And as for the burrito part, well, no matter what kind of road trip we're on, we like to eat and we love Mexican (margaritas included) and we were, after all, in New Mexico.  Thus, the Burrito Wagon was born.
When it came time to pick our domain name for this website, it seemed only fitting that we choose "burritowagon", for this is the playground in which we write about our travels, the ones on bikes and the ones on two feet, the ones in which we try to stay true to that which motivates and inspires us, the ones where Gina says "I can't stand it!" and what she means is "This is so great, so fantastic, so beautiful, so wonderful that I have lost all other words to express my thoughts and feelings."  Of course, this playground also contains some flights off the swings that landed a little too hard, a few missed rungs on the monkey bars, and maybe a teeter-totter or two where your playmate jumped off when you were still in mid-air, but I suppose that's just life.