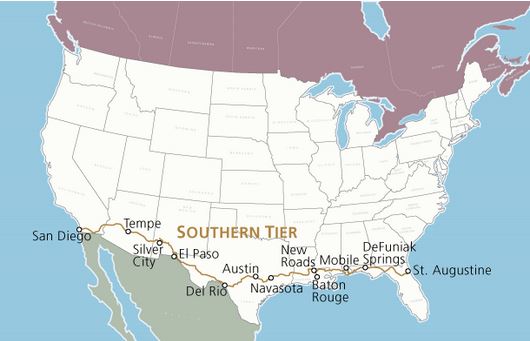 03 March 2014
Seattle, WA
I have a new mantra these days. It starts with "I will ride my bicycle" but is quickly followed by the excuse "Except it's cold and raining out."
Sounds pretty whiny and falls in the Why Are You Even Bothering department, for it's barely March and who's kidding who, we all know that there's no good reason to be riding your bike in Seattle right now unless you're out of Top Pot donuts and just missed the bus to QFC.
But this year is different. This year there is a good reason to be riding your bike in Seattle during this dreary season and it has to do with that map at the top of this post. It's THE Southern Tier, the bike route that we'll soon be riding from San Diego, California to St. Augustine, Florida over the course of 58 days and to the tune of 3,160 miles. This is the reason why it would have been a good idea to have been biking the past few months, and the reason why we might be a bit grumpy and tired soon since we haven't been. But no matter, we've had our share of high class problems and this one certainly falls into that bucket.
So stay tuned for more postings as we prepare to dip our rear wheels in the Pacific and point our front ones toward sunrise. I see a horizon filled with green chiles, cowboy boots and white sandy beaches … and probably the back ends of every other rider on the trip. You know, the ones who've all been training instead of complaining.