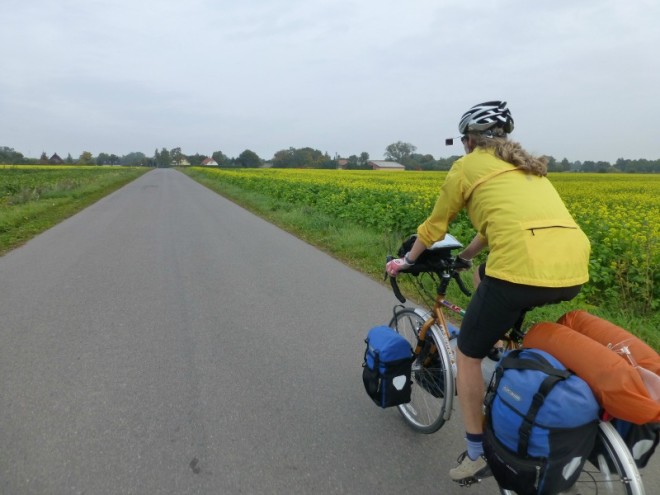 05 Oct 2013
Brug, Germany to Copenhagen, Denmark
35 miles + Ferry + Train
We are pedaling like mad and I am reminded of my Vashon Island days, trying to catch that ferry from Seattle that would get you home before curfew. Only now I'm on a bicycle and there is a very determined Gina leading the charge while I do my best to not get dropped, which would be especially bad given that the only Euro we have left would be in that handlebar bag speeding along ahead of me.
Today is a transportation day, us needing to get from one country to another by foot, ferry, and railway. It's starting with this 5 mile pedal (aka, race) to the Puttgarden (Germany) ferry (yes, we made it), and is ultimately followed by the 45 minute ferry ride to Rodby (Denmark), a 30 mile pedal to the Nykobing train station, a 2 hour train ride to Copenhagen, and finally a half mile pedal to our hotel. The hardest bit was not laughing at the grumpy lady in the bicycle carriage who disliked Gina's handling of her backpack. Perhaps she shouldn't throw it down in front of the only place left for bicycles if she's so particular about her stuff.
In addition to needing to get back where we started, we were also on a timetable of our own today, having a dinner date this evening with Gina's third cousin possibly a few times removed and by that I simply mean that it's way too confusing to understand how the cousin thing works so we'll just leave it at "they're related." It was a lovely evening with Laura and we thank her for the pleasure of her company and the walking tour to boot. I think our transportation day is complete. Well, if you don't count the pending plane ride home.